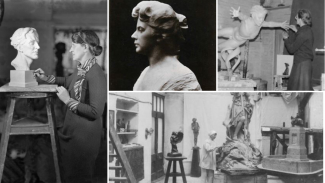 Conference date: 10 March 2021
For the last two years, the Royal Society of Sculptors has undertaken the research project, 'Pioneering Women at the Heart of the Royal Society of Sculptors', funded by the Paul Mellon Centre. This research has used the Society's archive to uncover the lives, histories and careers of twenty-five female sculptors working in the early to mid-twentieth century. The archive reveals these women's professional lives and networks: for instance, these women often nominated other female sculptors for membership.
The Royal Society of Sculptors was formed in 1905 and women were officially able to become members from 1910. However, the first women were not elected until 1922, with the election of Lady Feodora Gleichen MRBS 1861-1922 (posthumously), Flora Kendrick FRBS 1880-1969 and Christine Gregory FRBS 1879-1962. This conference will expand on the work carried out for the Pioneering Women project to explore how female sculptors trained, practised and forged careers within the typically male field of sculpture.
We invite papers of no more than 20 minutes in length to be delivered online. These may be pre-recorded or delivered live, with panellists then taking part in questions and discussions live. We also intend to publish the papers in a special journal edition.
Possible topics include:
Education – how women sculptors accessed education and training; how they forged networks through fellow students and teachers; the influence of teachers such as Edouard Lanteri at the Royal College of Art.

Identity – women's professional identity as a sculptor in a field dominated by men; their identity as both artist and professional; how they asserted and presented their identity as a woman, an artist and a professional.

Networks – membership of professional bodies; friendships and professional relationships through training, sharing studios, exhibiting alongside one another.

Patronage – access to networks to forge relationships with patrons; how women negotiated the artist/patron relationship.

War – plastic surgery, orthopaedic equipment and other innovations during WW1; war memorials; post-WW2 reconstruction.
We are particularly interested, though not exclusively, in papers about the following sculptors who feature in the 'Pioneering Women' project research:
Anne Crawford Acheson FRBS CBE (1882-1962)

Eva Dorothy/Julian Phelps Allan FRBS (1892-1996)

Rosamund Mary Beatrice Fletcher FRBS (1914-1993)

Lady Feodora Gleichen MRBS (1861-1922)

Dora Gordine FRBS (1895-1991)

Christine Gregory FRBS (1879-1962)

Rose Gwynneth Holt FRBS (1909-1995)

Lady Kathleen Scott FRBS (1878-1947)

Barbara Tribe FRBS (1913-2000)

Josefina Hermes de Vasconcellos FRBS (1904-2005)

Constance Anne Parker FRBS (1921-2016)

Constance Freedman FRBS (1935-1982)

Edith Elizabeth Jukes FRBS (1910-2006)

Elizabeth Koster ARBS (1926-2016)

Enid Mitchell FRBS (1931-)

Erica Lee FRBS (1888-1981)

(Gertrude) Alice Meredith Williams ARBS (1877-1934)

Judith Bluck FRBS (1936 -2011)

Karin Jonzen FRBS (1914-1998)

Kathleen Parbury FRBS  (1901-1986)

Margaret J. Wrightson FRBS (1877-1976)

Marion Willis Stanfield FRBS (1891-1965)

Marjorie Drawbell FRBS (1903-2000)

Naomi Blake FRBS (1924-2018)

Sheila Mary Mitchell FRBS (1926-2006)
There is a speaker's fee of £150 for each paper.
Please send a 200 word abstract and a short bio to Rosamund Lily West, Research Curator at archive@sculptors.org.uk by Monday 11th January 2021.