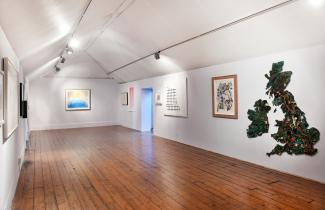 13 May to 13 July, free entry
This spring the Royal Society of Sculptors will be exploring the relationship between sculpture and drawing in its broadest sense in a new show, Parallel Lines: Sculpture and Drawing.

Drawings from The Ingram Collection of Modern British Art are paired with drawings by contemporary sculptors, in a conversation which plays out across the paired works and the show as a whole. The artists featured range from Henry Moore, Barbara Hepworth and Elisabeth Frink to Cathie Pilkington, Richard Deacon and Laura Ford. Images are available to media, contact info@sculptors.org.uk.
 Caroline Worthington, Director, Royal Society of Sculptors says," I don't know a sculptor that doesn't draw as part of their practice, yet these drawings are rarely seen. We are absolutely thrilled to have persuaded so many sculptors to show their drawings in this exhibition. We're hugely excited to share the interesting dialogues which have emerged and also to show new works by Tania Kovats, Amy Stephens and Susan York which have been specifically created in response to original drawings."
The pairings are as follows:
Henry Moore and Humphrey Ocean

Dame Barbara Hepworth and Susan York/ Jodie Carey

Dame Elisabeth Frink and Laura Ford/ Tania Kovats/ Hew Locke/ Susan MacMurray

Eric Gill and Cathie Pilkington

Kenneth Armitage and Sokari Douglas Camp

Reg Butler and Zachary Eastwood-Bloom

Allen Jones and William Mackrell

Sir Eduardo Paolozzi and James Capper/ Richard Deacon/ Susan Stockwell

Bernard Meadows and Langlands & Bell

Lynn Chadwick and Amy Stephens
In addition, the pairings include sculptures by Jodie Carey, Laura Ford, Humphrey Ocean, Amy Stephens and Susan York.
Woman by Henry Moore, 1957-58, will be displayed on the sculpture terrace for the duration of the exhibition.

Two events will also accompany the exhibition, tickets cost £8, concessions £5, Society members free:
In conversation with Laura Ford, 

11 June, 6.30pm: Discussing the impact of drawing on her sculpture with our Director, Caroline Worthington.
Book tickets: https://sculptors.org.uk/whats-on/2019/event/conversation-6

In conversation with Sebastiano Barassi, 

2 July, 6.30pm: Talking about Henry Moore's drawings with the Head of Collections and Exhibitions at the Henry Moore Foundation.
Book tickets: https://sculptors.org.uk/whats-on/2019/event/conversation-5

A companion show is being hosted by The Lightbox, in Woking from 22 June to 25 August. Parallel Lines: Drawing and Sculpture has been guest curated by Caroline Worthington, Director of the Royal Society of Sculptors, and places key 20th-Century sculptures from The Ingram Collection of Modern Art alongside contemporary  drawings by members of the Society.