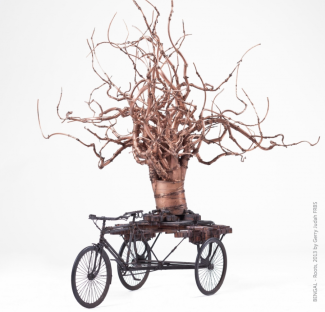 In collaboration with Grizedale Forest
The Forestry Commission has teamed up with the Royal Society of Sculptors to create a new exhibition as part of Grizedale Forest's 50th Anniversary of Arts and Culture in the forest.

Since 1968 artists have been drawn to Grizedale to create beautiful pieces inspired by this special place. Known for its internationally renowned forest sculpture collection, Grizedale now hosts a free rolling programme of contemporary exhibitions in its gallery set in the heart of the Lake District forest.
The 'Inspired by Nature' exhibition includes work from nine artists using a range of media - from pine needles to marble, bronze and wood. All the works presented have been inspired by nature in some way.
The Forestry Commission and the Royal Society of Sculptures are inviting visitors from 24th May to 23rd September 2018 to experience the natural world through the thoughts and ideas of the artists who have produced the works in the exhibition.

The selected artists are: 

Sadie Brockbank MRSS
Neil Ferber MRSS
Anna Gillespie MRSS
Linda Johns MRSS
Gerry Judah FRSS
Diane Maclean FRSS
Janne Malmros MRSS
Jeremy Turner MRSS
Julian Wild VPRSS
 
Caroline Worthington, Director, Royal Society of Sculptors says:
"Establishing a new partnership is always exciting and the Royal Society of Sculptors is particularly pleased to be working with Grizedale in its anniversary year. This exhibition is a wonderful opportunity for our members' work to be seen more widely - something that is especially important to them."
Hazel Stone, Arts Development Manager, Grizedale Forest says:
"We are delighted to be working with the Royal Society of Sculptors to produce the show. There was a huge response to the call out for the exhibition to the members of the Society and we are looking forward to bringing new audiences to their work and to the forest itself. Grizedale Forest is a working forest where not only timber is produced but artworks, ideas, new conversations, collaborations and memories. This is an exciting year for us and we invite our audiences to celebrate with us through a range of events which unite forestry, adventure, wildlife and the arts in a variety of ways."