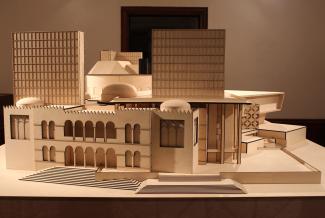 Sculpture Terrace
Until 4 May 2018, Monday to Friday, 11am – 5pm. Free entry

The Royal Society of Sculptors presents Playground by Rupert Norfolk on the sculpture terrace at 108 Old Brompton Road, London. As winner of the First@108 Public Art Award, Norfolk has been given the opportunity to create his first-large scale piece of art. 

Playground brings together and reinvents plastic garden toys, overlapping and fusing them into an inextricable tangle. Uniformly painted pale blue to produce a continuous surface, these familiar objects are transformed into a single abstract form. Physical mobility is arrested by this reconfigured structure - the swings can't pendulum, the seesaw can't pivot and the ladders and slides can't be climbed up or slid down - such that the sculpture can only be animated in the spectator's imagination. 

Caroline Worthington, Director, Royal Society of Sculptors comments: "Our First@108 Public Art Award provides a rare opportunity for a sculptor to start building a track record in the competitive arena of public art. We are delighted to be working with the Mirisch & Lebenheim Charitable Foundation to provide financial support and professional mentoring to enable an artist to expand their portfolio and create a site-specific sculpture or installation for our sculpture terrace."
A second new work, National Libraries, is on show in the salon gallery. It takes the form of a large-scale architectural model representing eight state institutions – icons of sovereignty and knowledge - that have been merged to simultaneously coexist in the same space. The sculpture is derived from digital models downloaded from the Internet: Australia, Belarus, China, France, Greece, Libya, Saudi Arabia and Sweden. These 3D  models have been reconfigured using a computer and then transposed into laser-cut plywood. The sculpture is sized to preclude grasping the whole object from a single point of view. The spectator is therefore compelled to move around the multifaceted structure in order to physically experience its complex knot of disjunctive architectural styles.