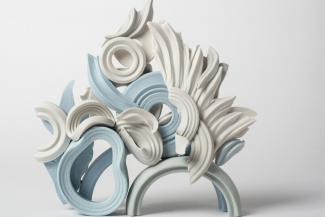 A new collaboration with J Sheekey Atlantic Bar
19 January – 19 July 2018
28-32 St Martin's Court, London, WC2N 4AL
The Royal Society of Sculptors recently teamed up with J Sheekey Atlantic Bar to create an exclusive opportunity for one of our members to display their work at their prestigious restaurant in the heart of Covent Garden. 
We are delighted to announce that the winner is Jo Taylor MRSS.  She creates ceramic sculpture, influenced by the dialogue between space, structure and ornament. Inspired by decorative architectural features such as ornate plaster ceilings, Jo also enjoys the grand gesture present in large-scale relief and the drama of deep shadow. Jo graduated from Bath Spa University in 2012 with a distinction in MA Ceramics.
Our collaboration is part of the restaurant's ongoing commitment to working with artists and cultural organisations, with recent partners including Sir Quentin Blake and award-winning cartoonist Kipper Williams.
For more information: www.jsheekeyatlanticbar.co.uk/jo-taylor-exhibition