The Royal Society of Sculptors has grown substantially since it was first founded in 1905, going from a membership of 51 to almost 700. The majority of our members make a lifetime commitment to the Society, and we are delighted to celebrate Fellows who have been with us for 40 years! 
Glynis Owen FRSS joined the Society in 1976  and was elected a Fellow in 1990.  She studied at Portsmouth College of Art and later at Goldsmiths. 
"I would just like to mention the key role the Royal Society of Sculptors has played in my career. To be elected as a young sculptor gave me a confidence that underpinned my career as a sculptor. My first Society event was an amazing and very formal black-tie dinner at Goldsmiths' Hall, with Norman St John-Stevas MP giving an after-dinner talk. Three years later, I received the Stevenage commission through the Society, which was hugely important to my experience and confidence. Serving two terms as a committee member on the Council gave me a fuller understanding of the workings of the Society.
In 1990, my election as a Fellow of the Society was one of the high points in my career. I have really appreciated the meetings, talks, lectures and, more recently during the Covid-19 pandemic, Zoom talks, which have allowed sculptors to connect with one another.
When I first joined the Society, I was in awe of the grey-bearded sculptors with their profound knowledge and technical skills, some of whom had been taught by eminent Victorian sculptors. It felt wonderful to be amongst them and have a sense that I would grow old as a member of this Royal Society. Now, as I write this, although I don't have the grey beard, I am more than aware that I am fast approaching the same age! Full circle!"
Below, Glynis has answered some questions put together by the Society's current Vice President Almuth Tebbenhoff VPRSS.
WHO WAS THE FIRST PERSON TO ENCOURAGE YOU TO BECOME A SCULPTOR? WHAT DID THEY SEE IN YOU?
I am not sure whether I found sculpture or sculpture found me but certainly nobody encouraged me to become a sculptor. Visiting Florence as a teenager, I was thrilled and fascinated to see and draw from Michelangelo's unfinished carvings with the extraordinary sense of his chisel and claw marks on the stone and the stages from rough block to exquisite finish. It didn't occur to me at that age that sculpture was something mere mortals like me could also make!
In 1962, aged seventeen, I was one of the first-year intake on the Foundation course at Portsmouth College of Art on the newly established national Diploma in Art and Design. We were described as the 'guinea pigs': the academic approach to art teaching was thrown out and we were introduced to a range of art subjects from the two dimensional, such as textile and painting, to three-dimensional, including ceramics and sculpture. It was a wonderful way of discovering the direction you might take for the next three years of study.
I enjoyed this introduction, but nothing could have prepared me for that first step into the sculpture studio. It was a gloriously bright sunny day and the way the carved and uncarved blocks reflected the sunlight thrilled me so profoundly – I knew immediately that this was what I wanted to do. My father, who had encouraged my artistic development from the earliest age, strongly opposed my decision. His plan was always that I would train to be a painter so it was a decision I made without support or approval.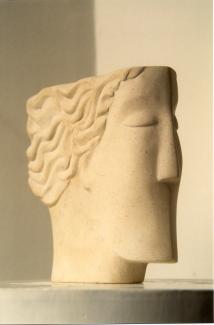 Glynis Owen FRSS 'Thinking Man' in Lepine Limestone
WERE YOUR PARENTS ARTISTS / ARTISTIC?
My parents' lives were very much affected by the Second World War. My father had drawn and painted as a young man and I still have some of his drawings and watercolours. He trained and then worked as an architect in London. But a direct hit on his father's air-raid shelter in his garden during the war meant he gave up architecture and joined his brother as the third generation in the family construction company which became one of the largest in the South of England. I think sitting at a desk and running a company was not how he had planned his life.
Living far from my school and as the eldest daughter I was very close to my father and spent many hours as a small child with him in his office. He kept a drawer in his desk for me – filled with pencils, crayons and a pile of paper. I spent hours drawing on his large plans table while he sat at his desk. He gave me great encouragement to train as a painter, which was, I'm sure, what he would have liked to have done himself. My decision to become a sculptor was certainly not part of his plan!
My mother represented the practical side of the family. She was a woman with many practical skills and I think I inherited some of these traits from her. As a young woman, she had been an actress – performing on stages in London's West End and even in one of Alfred Hitchcock's early films – but, like my father, the war was a life-changing event for her. Her own father also had immense practical skills. He had been an engineer for WT Henley's Cable Works and, during the war, worked on the top-secret Project PLUTO (Pipe-Line Under the Ocean), an oil pipeline laid across the seabed of the English Channel to fuel the advance of the Allied Armies from the Normandy beaches. In his retirement, my grandfather came to live with us and I spent many hours as a young teenager helping him in his Aladdin's cave of a workshop.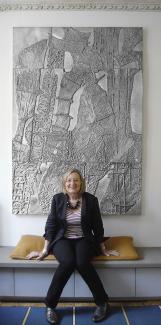 Glynis Owen FRSS next to 'Regolith' a 2011 aluminium relief for private architectural client
WHO WAS YOUR MOST INFLUENTIAL TEACHER?
There were two teachers who were key influences for me as a student and they could not have been more different!
The Diploma in Art and Design course was very much ideas-based – which was exciting – but this came without a great deal of technical advice. In my second year in the sculpture department, a new sculpture lecturer joined the all-male staff, Margaret Lovell D. Litt, FRBS, RWA. Recently qualified from the Slade School of Fine Art and awarded an Italian State Scholarship, Margaret seemed to recognize my enthusiasm and gave me a great deal of individual attention, teaching me a range of technical skills, in particular, casting – which became key to my development as a young sculpture student and the foundation for my future career. Margaret Lovell instilled in me a confidence and belief in myself as a sculptor which has shaped the rest of my life.
During my fourth year at college I wanted to have experience of working with an established sculptor so I wrote to several sculptors of international standing. Lynn Chadwick CBE, RA, preparing for an exhibition at Marlborough Fine Art and various international exhibitions, needed an assistant. I worked for him in my college holidays, living in his house and working in his studios. This close relationship was one of the most exciting and key influences that took me from being an art student to gaining real insight into how a professional sculptor lived and worked. He taught me how to spot weld rather like drawing, with thin rod, and to work with the materials he used to construct the thin composition membrane across the skeletal welded structures of his sculpture. He arranged for me to spend time in the studios of Kenneth Armitage and William Scott to see how other artists worked. Lynn Chadwick's work could not have been more different from mine but working on his sculpture broadened my understanding and indirectly influenced my work. I think the most important thing I learned from him was how being a professional sculptor was a job and so very different from the life of an art student. Every day, Lynn worked in his studio for long hours. I helped him prepare for exhibitions, which gave me further insights into how this is done professionally. The experience of working in the studio of an established sculptor in my last year of college came at a perfect time and showed me how I could direct my own career after I left art school.
HOW DID THE ART MARKET RESPOND TO YOUR WORK IN THE EARLY DAYS? DID YOU GET PICKED UP BY A GALLERY EARLY ON?
There seemed to be far more small, privately owned galleries in the seventies and eighties. I was one of a group of artists regularly showing and selling work at a number of galleries in Sussex, Hampshire and London. In parallel to exhibiting my work I was also working on public and private commissions.
WHAT WAS YOUR BIGGEST OBSTACLE AND HOW DID YOU OVERCOME IT?
In 2000, I was shortlisted to design a trophy for the newly founded National Teaching Awards set up by David Puttnam. It was an exciting commission with a glitzy annual televised award ceremony and I was delighted when my design was chosen. Lord Puttnam visited my studio for a meeting, we drank tea and all seemed to be progressing well with plans for making and then casting the gold and silver award trophies. But, as any professional artist will know, contracts can sometimes involve lengthy and complicated negotiations, which at times seem quite unresolvable. After several stressful months, and knowing little about copyright issues, I sought professional advice from DACS, whose invaluable support resulted in an invitation from Lord Puttnam for us to meet him in the tea room at the House of Lords. An acceptable new contract was typed and signed there and then – over a very good Westminster tea and sandwiches! I am proud to say the Teaching Awards used my trophy design, licensed by DACS, for the following 20 years at the BBC-televised awards ceremonies.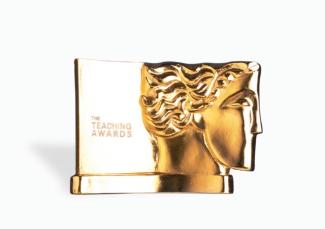 Glynis Owen FRSS 'Teaching Awards Trophy 2000-2020' made in bronze
DID YOU DEVELOP YOUR PRACTICE IN SOLITUDE OR WITHIN A GROUP?
I have always worked on my own in my studio, bringing in an assistant on larger commissions. I enjoy the solitude, which feels more immersive and gives me the time and space to think creatively. I also like the privacy of being able to work through and develop ideas, leaving supporting work spread around the studio. 
WHAT WAS YOUR BIGGEST HELP?
At the age of 50 I decided to give up combining teaching with my own studio practice. It felt a serious financial decision at the time but finally it gave me time to focus fully on my own work.
Since leaving Goldsmith's in 1967 with an Art Teacher's Certificate, I had combined my own studio work with teaching, first in schools and then in colleges in Sussex, Hampshire and London, including Southampton College of Art, New England College (British Campus), Camden Art Centre and the Institute, Hampstead Garden Suburb. I also ran life classes, carving, casting and holiday courses for children from my own studio and built up a thriving and wonderful group of private students.
So, on my fiftieth birthday, I organized a successful selling exhibition of my students' work at Burgh House, Hampstead, and then threw a big studio party. For me, it was a memorable occasion – one of my students read a poem they had written (about me!) and presented me with a beautiful bespoke art folio. I still miss them all, but it was a huge help to my career as a sculptor and I became very busy both working for exhibitions and commissions, including small carvings for a new resource for Tate Modern, a 4m relief for Stafford Town Centre, and two large carvings for siting by Lake Como.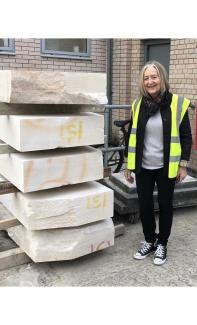 Glynis Owen FRSS checking out limestone blocks at Chichester Stoneworks in 2020
DID YOU DREAM BIG OR DID "BIG" SCARE YOU?
I probably experienced both emotions when I was commissioned to carve a stone sculpture two metres in height for Stevenage Town Centre.
Baroness Denington, chair of the Stevenage Development Corporation, arrived at the Royal Society of Sculptors in London with the brief to commission two sculptors – one to carve a stone sculpture and the other a work in bronze. As a new young member of the Royal Society of Sculptors, I was thrilled when I received the news that they had seen and liked my work and wanted me to carve a stone sculpture two metres in height. 
I had never carved anything on this scale before. I think I was still 'dreaming big' at the stage when the maquette was approved but when the 2x1x1 metre block of limestone arrived from the quarry in France to the stoneyard of the Chichester Cathedral Works – where I was to carve it – 'big' certainly did scare me! The main lesson, which I think became a lesson in life, was to focus on the day's work – every day. It ceased to scare and became a dream job – I loved every moment of it. Chipping away each day, I carved the three-figure piece entirely by hand, in heatwave and in snow, and even finished it on time.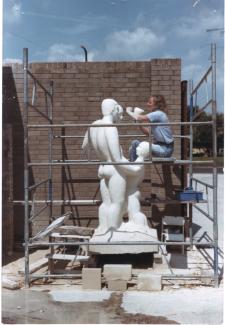 Glynis working on 'Family Group' 1981, commissioned by Stevenage Development Corporation and now sited at Stevenage Town Centre. Carved in Lepine limestone at Chichester Stoneworks.
WHAT IS THE BEST THING A CRITIC HAS WRITTEN ABOUT YOU?
Perhaps for my Stevenage sculpture to be cross referenced with Henry Moore in the Zwemmer/Tate Publishing Open Air Sculpture in Britain by W. J. Strachan
 'The figures, characterized by their roundness, merge into each other emphasizing the idea of the family unit. Compare with Henry Moore's treatment in Family Group, Harlow.'
WHAT IS YOUR FAVOURITE COMMISSION / SCULPTURE YOU HAVE WORKED ON?
Again, it is a double answer. I have two equally favourite commissions, each requiring a quite different approach.
The first was a bronze relief for Covent Garden Piazza, London. The excitement of this commission was in coordinating and working with the many skilled makers required to help realize this monumental-scale bronze relief. It was commissioned by a client of mine, who had a connection with Covent Garden Market, and also by the Worshipful Company of Fruiterers. The theme of the sculpture was the history of the bustling fruit and vegetable market that had traded in Covent Garden for three centuries. Because of the size, only the maquettes could be made in my studio; from that point, it was scaled up and cast into bronze by the bronze foundry. Taking the relief from concept to siting in Covent Garden involved coordinating and working with a range of expertise and skills, including picture librarians and type designers – who designed all the lettering and even a new typeface for the iconic Covent Garden half circle of lettering. Another company produced the detailed silicone moulds for the lettering, and engineers, and a lighting designer, were also involved. Finally, the bronze relief was transported to London. The road was closed for the crane to lift the bronze into its niche on an outside wall of the building and then, finally, the big day, when the road leading to Covent Garden Piazza was closed. The Mayor of Westminster arrived for the unveiling and a great Covent Garden party was thrown for all involved, including many of the market families.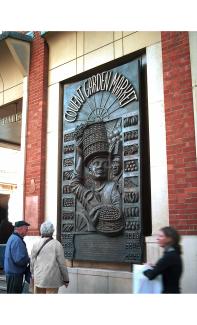 Glynis Owen FRSS 'The Fruit Porter' in Covent Garden, 2006
My other favourite commission was very different in that it was far more hands-on and all the making could be done in my studio. This commission came from an American architect who admired my work and wanted to commission an aluminium relief more than two metres in height. His brief was that the piece should be abstract but have some sense of an aerial view of the earth's surface. Many interesting meetings followed, but it was after a stay in St Ives that I came up with what he had been looking for in this abstract relief. Staying in a sail loft with an amazing quality of light, I began to make graphite rubbings of the surrounding stone textures, which I collaged into the design for the relief. I set up a meeting on my return and was delighted that it captured exactly what the architect wanted. In my studio, I made the relief of landmasses in graded grits and sheet plastic for areas of water. The casting of the plaster moulds was also done in the studio, using a line of assistants to mix plaster in order to keep the pour continuous. It then went to the foundry to be cast in aluminium.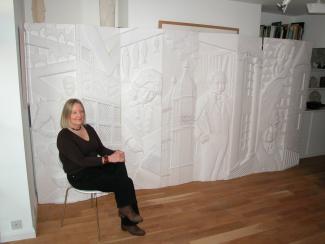 Glynis Owen FRSS 'Stafford Faces' 2003 based on the history of Stafford and sited at Stafford Town Centre. Working model in polystyrene, before casting in bronze resin