The Royal Society of Sculptors is delighted to be partnering with the Department for International Trade on a members-only commission for a live sculpture, to be created and exhibited at the postponed Expo 2020 Dubai this October.
2021 WINNER - NICOLA ANTHONY MRSS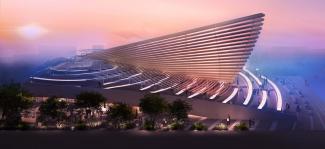 Following award-winning presentations at both Milan 2015 and Shanghai 2010, the UK's offering for Expo 2020 Dubai is eagerly anticipated. The UK Pavilion, designed by Es Devlin OBE, seeks to emulate if not exceed past success and will host content that will match its creativity and innovation. Over the course of the 6-month event, under the participation theme of 'Innovating for a Shared Future', the UK's past, present and future will be celebrated with a global programme of activations showcasing business, education and culture.
Expo 2020 Dubai is the first World Expo to take place in the Middle East, Africa and South Asia region and the first to be hosted by an Arab country. The Expo theme is 'Connecting Minds, Creating the Future', and aspires to create a meaningful legacy that will benefit generations to come both locally and globally. 

The Live Sculpture Commission will be part of the UK's cultural programme. Sculptors resident and working in the UK are invited to present a concept for a piece that will be created in situ within the UK Pavilion, unveiled at a VIP reception and then exhibited for the remainder of the event. The theme for the sculpture commission is 'See Things Differently'. The winning sculptor will receive c. £3,000 for a period up to 10 days between 1 to 10 November 2021, with all expenses covered.
Entry Process
This one-off commission is open to Royal Society of Sculptors members only. Applicants must be resident and working in the UK. 
Applications are now closed.