Portrait of a Profession, an exhibition of photographs by Anne Purkiss
14 May - 14 July 2018
Faces of Sculpture was an exhibition of photographer Anne Purkiss' portraits of leading British sculptors in their studios taken over the past 30 years.
Dame Elisabeth Frink, Sir Anthony Caro, Damian Hirst, Grayson Perry, Sir Antony Gormley, Cornelia Parker, Rachel Whiteread, Maggi Hambling, Phyllida Barlow, Martin Creed, Gavin Turk, Yinka Shonibare and many more have all been the subject of Anne's incisive lens at different stages of their careers.
Anne arrived in the UK from former East Germany in 1984. Two years later she got her first commission to photograph a sculptor in his studio. The job came from the Associated Press and the pictures were to be a celebration of the 90th birthday of Arthur Fleischmann. This was the start of a three-decade project that has seen her taking portraits of more than one hundred sculptors who inspire her through their work and ideas.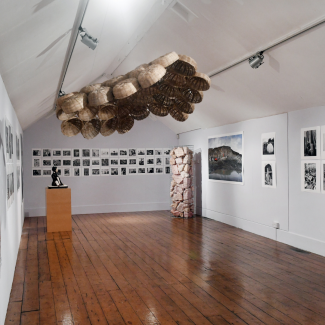 In addition, the work of four contemporary sculptors - Rana Begum, Simon Hitchens, Michael Lyons and Cathie Pilkington - accompanied photographs of the artists in gallery. 
Anne said "It's an exciting time to photograph sculptors and their work as in recent years the nature of an entire profession has changed. It is fascinating to see how much our understanding of this artform has been transformed within a few decades. Sculpture is no longer just a piece of artwork on a plinth, it includes installations, site specific or performance art. Sculptors use increasingly unconventional materials. And there are many more women working in sculpture now and producing inspiring work. As a photographer, the subject has huge creative potential for me, it appeals to my interest in documenting people and change."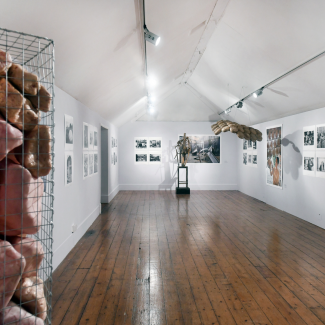 "I see photographs as documents of people, recorded in the context of their environment and their time. The interpretation of my subjects, or my part of being creative, lies in selecting the context, the environment and the moment in time." - Anne Purkis
On the Sculpture Terrace: In Memoriam III by Elisabeth Frink
To mark the 25th anniversary of Dame Elisabeth Frink's death, her monumental work In Memoriam III, 1983 was on display on the Society's sculpture terrace.
Frink was a fellow of the Royal Society of Sculptors and a Royal Academician. She created In Memoriam III as a tribute to those who suffered for their beliefs. Strong and solemn with a fixed gaze, the bronze head with its black patina is rough in texture conveying a sense of courage, suffering and endurance.
The sculpture was a generous loan from The Ingram Collection of Modern British Art.