By Philip King CBE and Alexandre da Cunha
26 Sep 2018 - 2 December 2018
Past President of the Royal Academy, Phillip King CBE, joined forces with Brazilian-born London-based Alexandre da Cunha to spend a week of practical exchange and discussion in the studio space here at Dora House.
Both brought materials and equipment to the space and between them explored the process of making. The collaboration offered a rare opportunity to glimpse into the artists' studio and discover their working practices. At the end of the week, the space was left in exactly whatever state it was in, with whatever remained of the exchange on view.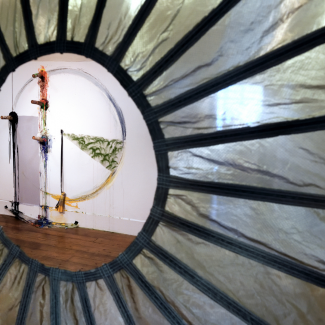 The other room of the exhibition, the salon, featured a large plinth where small scale sculptures by Phillip and Alexandre were placed together in conversation. Some works were independent sculptures, others models for larger sculptures - so a dialogue between the two artists, as well as a dialogue between large and small, macro and micro, public and private, indoors and outdoors.
Phillip commented "Duologue is a play with just two people in it – however this particular play has no script, which gives us maximum freedom for trying new ideas. In order to start I personally will bring a lot of the type of things and material I have in the studio and put it all in a corner … and then we will see what happens next."

Alexandre added "This project is a great opportunity for me to engage with Phillip King's practice and open doors to a dialogue about our works. I hope this also opens doors to the public to see our practices through a different perspective; where the emphasis is on the use of materials rather than the formal aspect of finished sculptures."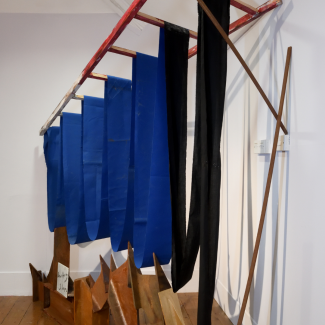 "Duologue - a play or part of a play with speaking roles for only two actors." (Oxford English Dictionary)
On the Sculpture Terrace: Public Sculpture (Pouff VII) by Alexandre da Cunha
Alexandre da Cunha describes his practice not as 'making' but more as 'pointing', gesturing at existing objects in our everyday surroundings and revealing new and unexpected meanings within them.
In Public Sculpture (Pouff VII) da Cunha presented sections of large underground drainage pipes. Three simple geometric concrete shapes exist in stark contrast to the architecture around and even visible through the work. Da Cunha brings a joyful new reading to these seemingly familiar objects.
With thanks to Thomas Dane Gallery.