Marjorie Drawbell FRBS (1903-2000) was elected as an Associate member of the Society in 1948 and a Fellow in 1957. She studied sculpture at Regent Street Polytechnic between 1919 and 1921 under Harold Brownsword FRBS. Along with Harold Youngman FRBS, Brownsword later nominated Drawbell for membership of the Society.
After completing her studies Drawbell worked with Charles Vyse as his assistant, modelling ceramic Poole figures. Drawbell specialised in animal and human figurines and had many commissions for private collectors. She was commercially successful and her swans were cast in silver by Aspreys of Bond Street.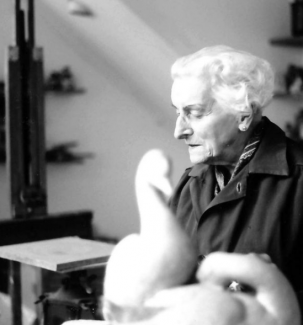 Drawbell was featured in an article in The Studio in September 1947, a copy of which we have in our archive at Dora House, and her work 'Young Gazelle' features on the cover. In 1961 she published 'Making Pottery Figures', a copy of which we also have in the Society's library. It is a book for those with some knowledge of casting and guides the reader through each stage of the process, even containing a section on various types of kiln, evidencing Drawbell's expertise and specialism in modelling pottery figures.