Lady Kathleen Scott FRBS (1878-1947) was born Edith Agnes Kathleen Bruce, the youngest of eleven children of Lloyd Stewart Bruce and his wife Jane, in Nottinghamshire. She trained at the Academie Colarossi in Paris, studying under Rodin and attending Gertrude Stein's salons. In 1908 she met Captain Robert Falcon Scott, and the pair were married at the Chapel Royal at Hampton Court soon after. Scott died during the British Antarctic Expedition of 1912 and was posthumously knighted, allowing his widowed wife to use the title Lady Scott. 
In 1913 the Scott Memorial Fund was founded, with Lady Kathleen contracted to complete a bronze sculpture of her late husband. Unfortunately, when work commenced in 1915 all available metal was required by the armament industries, so Lady Kathleen moved to Carrara, Italy, in order to work in white marble. The sculpture was shipped to Christchurch in New Zealand, but a bronze copy remains in Waterloo Place, London.
Portrait photos © National Portrait Gallery, London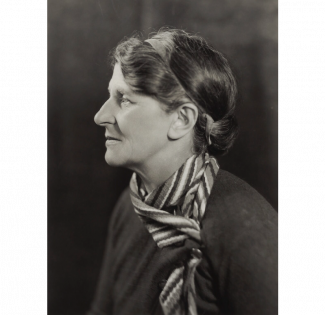 Lady Kathleen was one of the first female members of the Royal Society of Sculptors, becoming an Associate Member  in 1928 and a Fellow in 1946. In 1922 she married Sir Hilton Young, who later became Baron Kennet, thus providing her with yet another name: Lady Kennet. Lady Kathleen's granddaughter Emily Young is also a Fellow of the Royal Society of Sculptors. 
Listen to Dr Jonathan Black from Kingston University giving the lecture: Martial Masculinity, The Female Gaze and National Identity in the First World War Memorials of Feodora Gleichen, Kathleen Scott and Gertrude Alice Williams c.1919-1934 at the following link.