Kathleen Parbury FRBS (1901-1986) was elected an Associate member of the Royal Society of Sculptors in 1960, and then a Fellow in 1967. She was born in Borehamwood, Herts, in 1901 and trained at the Slade under Henry Tonks and Harvard Thomas. Her first commission, while still a student, was a portrait head of the chairman of the governors of an approved school.
After the Second World War, Kathleen's sculpture found expression in the country's expansive programme of church building and reconstruction. Her work, often monumental in scale, can be found in churches across the country such as her figure of St. Aidan carrying a torch on the façade of St. Aidan of Lindisfarne, East Acton, a church rebuilt in 1961. At the church of St. Mary's, West Twyford, is Kathleen's 8 foot high "Madonna and Child", around 1958, is above the door. There are also four figures of angels in St. Columba's church, Sutton Coldfield, from around 1959. Her interest in religious works continued through the 1950s and 60s and in 1955 she organised the exhibition, "The Gospel in Sculpture".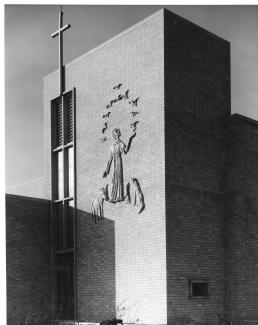 Parbury was a founder member of the Society of Portrait Sculptors and was well known for her portrait busts. Her famous sitters include Field Marshall Sir Gerald Templar, the Antarctic explorer Sir Vivian Fuchs and the actress Dame Sybil Thorndike. She wrote an historical book on the Saints of Lidisfarne called 'Star of the North' and published in 1985 a book entitled 'Women of Grace: A Biographical Dictionary of British Women Saints, Martyrs and Reformers'.