Judith Bluck FRBS (1936 -2011) became an Associate member of the Royal Society of Sculptors in 1975 and a Fellow in 1978. She began her career in engraving and progressed through design, photography and painting, before landing on sculpture as her true metier. 
Bluck completed many commercial commissions such as a group of bronze sheep for the Milton Keynes corporation, 'Horse Group' at the ICI Heavy Organic Chemical HQ at Teesside and 'Natural Force II' for the entrance hall of the Yorkshire Building Society. It was from the Yorkshire landscape that Bluck gained the inspiration for her career and life's work.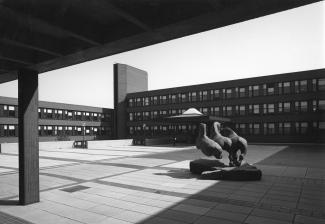 During the Second World War, she was evacuated from London to live with her uncle, Harry Banks, a Skipton watch-maker and jeweller. The experience of being evacuated to family in Yorkshire shaped the rest of her life: "As a child, I had begun to carve in wood as a hobby. Later, I experimented with glass and metal. But strangely enough, it was a Yorkshire clay that finally turned me into a sculptress….The (clay) that suits me best is Ripon clay so here, back in North Yorkshire, I found my ideal setting, my inspiration in nature, and the material I like to work with most".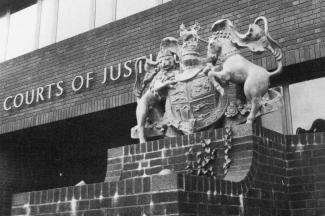 Bluck created the sculpture 'Natural Force II' for the entrance hall of the new head office of the Yorkshire Building Society, which opened in the early 1990s. The piece is an organic form mounted on the wall inside the headquarters. The Society has a pamphlet in the archive celebrating this commission, and in it Bluck explains how the artistic content of the sculpture relates to the rock and soil of the Yorkshire landscape: how the brick is made of glass and sand, and how the form is like a tree, a river, or sea urchins. The construction of the piece also involved Yorkshire locations: it was constructed in Settle but, before construction, a mock-up of the design was laid out for the first time in Giggleswick School.
Bluck's work gained her numerous awards including the bronze and silver medals of the Societe des Artistes Francais and The Otto Beit Medal (Royal Society of Sculptors). 
Judith Bluck's archive is held at the Henry Moore Institute.