Josefina Alys Hermes de Vasconcellos was born in London in 1904. Her mother was an English Quaker and her father a Brazilian diplomat. Josefina's artistic leanings were encouraged by her parents and in 1921 she gained a scholarship to the Royal Academy to study sculpture. She later studied at the Academie de la Grand Chaumiere in Paris under Antoine Bourdelle and in Florence under Libero Andreotti, as well as at the Regent Street Polytechnic under Harold Brownsword, where she met the artist and Anglican lay preacher Delmar Banner - the couple married in 1930, settling in Lower Langdale in the Lake District. 
At the age of 20, de Vasconcellos gained her first large commission to create a crucifix, tabernacle, candelabra and altar in the Church of St Valerey at Varengeville, Normandy. Her talent for stone carving is revealed in the life-sized Reclining figure of St Valerie under the stone altar.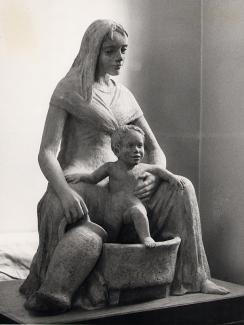 In the post-war years de Vasconcellos became a prolific sculptor of nativity scenes and it is from this period that she became closely associated with the church of St-Martin-in-the-Fields in Trafalgar Square. Her 8ft tall Christ the Judge (1950) and four-ton The Last Chimera (1950) were both displayed on a bomb site in Piccadilly and earned her wide public attention. Christ the Judge became part of a war memorial at Aldershot and was repaired and rededicated in 1998. The Last Chimera may be seen in the Canongate Kirk, Edinburgh. The Hand (1995) is a war memorial at St Bees' School, Cumbria. 
De Vasconcellos' work was notable for its religious themes and for her love of children, which led her to work on a collaborative project with school children at St Paul's Cathedral, where the resultant Mary and Child is still on view in the crypt. De Vasconcellos set up the Beckstone Centre in the Duddon Valley, Cumbria, as an Outward Bound base in 1967 and in 1975 initiated the Harriet Trust to provide nature observation holidays for young people with disabilities, in a beached trawler at Milson. She devoted much of her energy to innovations to combat disability, her most successful initiative being a textured carpet for blind child dancers.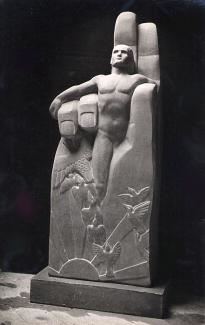 In 1944 de Vasconcellos became one of the first women to be elected Fellow of the Royal Society of Sculptors, and she continued to exhibit regularly at the RA, the Paris Salon and the Royal Society of Portrait Sculptors. In 1977 she was commissioned to sculpt Reunion for the Faculty of Peace Studies at Bradford University. Such was the symbolic power of the work that it was re-named Reconciliation and bronze copies were later cast for old Coventry Cathedral, the Hiroshima Peace Park, a water garden at Stormont Castle and a chapel on the site of the Berlin Wall.  De Vasconcellos was awarded an MBE in 1985 for her work with young people, and at the age of 95 she became the artist-in-residence at Prince Charlie's House, Kendal.