Dora Gordine became an Associate member of the Society in 1938, and was made a Fellow in 1949. Gordine was born in Latvia, and lived in Estonia, Paris and London. She settled with her second husband Richard Hare in Kingston at her home and studio Dorich House, designed by Gordine herself. Between the wars, Gordine became well-known for her non-European 'exotic' portrait heads such as Javanese Head (1930-31) and Chinese Head (1930-32) as well as striking figurative pieces such as Walking Male Torso (1927-28) and Standing Female Nude (Dame Edith Evans) (1938). Gordine also participated in the 1951 Festival of Britain, as well as receiving public commissions into the 1960s such as her dynamic relief Power (1960) for the Esso Petroleum Refinery at Milford Haven.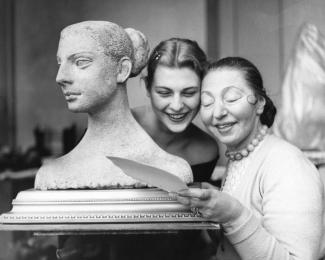 Both as a sculptor and in her life Dora Gordine was an individualist. Born in Libau in Latvia, in 1898, she grew up in Reval, Estonia, but was educated in Paris in the 1920s, where she studied music before turning to sculpture. Gordine always claimed to have had no formal training (and that she was born in 1906), but to have had the support and encouragement of Aristide Maillol (1861-1944), who told here to avoid teachers, get on with her own work and to collaborate closely with founders and other skilled artisans. The absolute accuracy of such statements has still to be verified, and it is hard to believe that she did not undergo at least a brief apprenticeship; however, the fact that she had her first one-woman exhibition at the age of twenty two, when most budding sculptors of her generation were still undergoing a long and arduous training, goes some way to support her claim. This first show in 1928, like most of her subsequent shows, was at the Leicester Galleries in London, though she had her bronzes cast by Valsuani in Paris.
Gordine's fascination with Eastern figures dates from this early period, when she modelled her famous head The Chinese Philosopher. She spent 1930-35 in Singapore, where she was commissioned to make a series of bronzes for the new Municipal Building, now the City Hall, and travelled widely, marrying the physician to the Royal Sultan's family, Dr. Garlick, in Singapore. The experience of the years she spent in the Far East were to have a profound effect on Gordine's work.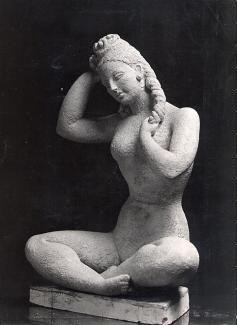 In 1936, after her return to Europe, Gordine married the Hon. Richard Hare, a specialist in Russian art and literature. Dorich House, the couple's famous home in Kingston Vale, was named for a fusion of their names: 'Dora' and 'Richard'. 
Like many sculptors, Gordine's work veered from the ideal to the specific, and from the small scale to monumental. Torsos and classical nudes are contrasted by her many portraits, which reflect her wide circle of patrons and friends – Emlyn William, Carol Reed, George Eumorfopoulos, Freya Stark, Beryl Grey, Kenneth Clark and John Pope-Hennessy amongst them. Public commissions, especially the large bronze relief of men working which she did to celebrate the opening of the Esso refinery at Milford Haven, showed that she was capable of handling work on a considerable scale. Her favourite public work was the Mother and Child for the Royal Marsden Hospital, Surrey.
Gordine became Associate of the Royal Society of Sculptors in 1938 and was elected Fellow in 1949. Her archive is held by the Royal Society of Sculptors at Dora House.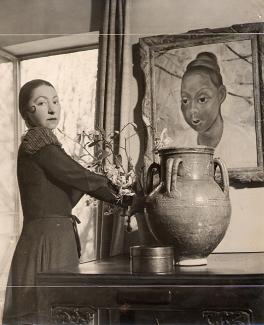 To hear Fran Lloyd, Professor of Art History at Kingston University, speaking about Dora Gordine please visit the following link.