Anne Acheson CBE FRBS (1882-1962) was the first female Fellow of the Royal Society of British Sculptors, receiving the honour in 1938. Her application proposed by Sir William Reynolds-Stephens and seconded by Phoebe Stabler.
Acheson's bespoke sculptures had long been popular in country houses and gardens, and her work exhibited at the Royal Academy. However, it was her achievements during the First World War that are her most enduring legacy.
In 1915 Anne joined the Surgical Requisites Association (SRA), an organisation set up to supply surgical dressings for wounded soldiers. However instead of rolling bandages, Anne's artistic talents led to her pioneering more effective treatments for wounded soldiers.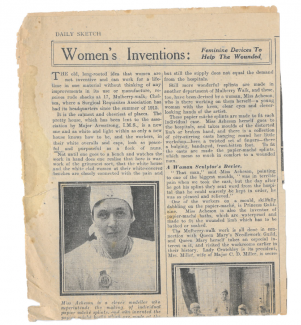 Armed with an expert knowledge of the human anatomy gained from her sculpting experience, Anne invented the first anatomically accurate splints which allowed soldiers with broken bones to heal faster. Constructed initially from papier mâché made from sugar bags, and later Plaster of Paris, Acheson's splints were comfortable, lightweight and cost-effective. Moulded around the injury of an individual; the custom-made splints also ensured that bones were held in the correct position to properly heal.

In recognition of her work which healed so many; Anne was awarded the CBE in February 1919. Her influence lives on as Plaster of Paris splints continue to be universally used for the treatment of broken bones.
Anne Acheson's archive is held by the Royal Society of Sculptors.