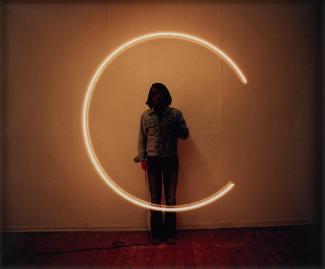 30 September to 29 November
Inside/Out pairs the work of two important Japanese artists Jiro Takamatsu (1936-1998) and Keiji Uematsu (b.1947). This exhibition of sculpture, works on paper and photographs will create an exciting dialogue between two very different artists, bringing post-war Japanese art and the influential Mono-Ha (School of Things) to a wider audience. 
Jiro Takamatsu was one of the most influential and important conceptual Japanese artists of the 1960s and 1970s. Takamatsu used a variety of media in his practice and Inside/Out will present sixteen works by the artist – many of which have not been seen in the UK before. Key works on display include a sculptural work entitled "The Oneness of Granite', part of the influential Oneness series (1969 – 1972), here the artist explored the complexity and resonances of individual materials. For each Oneness piece Takamatsu used a familiar, everyday substance, such as concrete, wood, brick or paper. Each work in the series was formed using a similar methodology - he chose a single material and manipulated it, demonstrating its intrinsic transformative potential as well as its singularity. For Takamatsu, these artistic investigations suggested the uniqueness and mutability of self-identity as well hinting at the complexity of the most simple, everyday objects. 
Unlike Takamatsu who had a broad artistic practice Keiji Uematsu (1947-) is primarily a sculptor who strives to illuminate the invisible relationships between objects and the spaces they inhabit. Uematsu produces work that focuses on unconscious and unseen forces such as gravity and magnetic field. He wants us to visualize and feel these forces as real and by putting objects into space he wants us to experience space in a different way. In Floating Form Invisible Access a large copper cylinder hangs improbably in the air whilst steel cables at odd angles anchor a rock to the floor. In Corner Piece 2 a vast black cone seems to defy gravity as its balances fragilely on its pointed end. Through these oddities Uematsu make us question our familiar reality.
Pairing these artists for the first time aims to provide an insight into the new ways of thinking about sculpture that developed in post-war Japan. Takamatsu was a key member of the movement Mono-Ha (School of Things, 1967–79). Uetmatsu is also associated with Mono Ha – a group of artists who rejected traditional studio form of representation in favour of unaltered natural and industrial materials, creating works of action and experimentation. The two artists have never been paired before and the exhibition has been selected and curated by the Tokyo-based art historian and curator Yumiko Chiba. 
Inside/Out: Jiro Takamatsu and Keiji Uematsu in conversation
Is a non-charging exhibitionn and is part of a series organised by the Royal Society of Sculptors that places works by two leading sculptors of different generations in a creative dialogue about the possibilities of sculpture. It follows "Duologue: Phillip King and Alexandre de Cunha" (2018) and "What Isn't here Can't Hurt You: Frances Richardson and Alison Wilding" (2019).

Notes to Editors

About Sculpture Exhibitions at Dora House
The Society holds four exhibitions a year at Dora House – all are free to enter. The programme blends exhibitions that showcase awards and along with shows that seek to lead the conversation about sculpture.  Each show runs for 10-12 weeks and is supported by a work sited on the sculpture terrace. There is a programme of public events wrapped around each exhibition from "in conversations" to twitter tours and family drop in activities.
 
About Royal Society of Sculptors
Created over 100 years ago, to advocate sculpture and the artists who create it, the Royal Society of Sculptors is now welcoming visitors to its historic home in South Kensington to explore a diverse range of contemporary work through original exhibitions, artists' talks and creative workshops. The Royal Society of Sculptors is based at 108 Old Brompton Road, London, SW7 3RA.  Nearest tube stations: South Kensington & Gloucester Road
About Dora House
Dora House is Grade II listed and the oldest building in the Queen's Gate Conservation Area of Kensington. It has domestic proportions, and at various stages in its history has been a studio and a home. Together, 108 and 110 Old Brompton Road are a pair of early 18th century houses that were remodelled and extended by the architect William Flockhart in 1885-86 when they became the studios of photographers Elliot and Fry. In 1919, the building became the home and studio of the sculptor Cecil Thomas, who was best known for his memorial sculpture and coin and medal design. After the Second World War the building was let as architects' offices to Sir Hugh Casson and Christopher 'Kit' Nicholson. Gifted to the Society by Cecil Thomas, the building provided the Royal Society of Sculptors with its first permanent headquarters. 
Sculpture on the Terrace
The Royal Society of Sculptors has a regular exhibition on the terrace. To coincide with Inside Out Bosco Sodi, will show Untitled (2016). This gold-glazed volcanic rock reflects Sodi's interest in the Japanese aesthetic philosophy wabi-sabi.