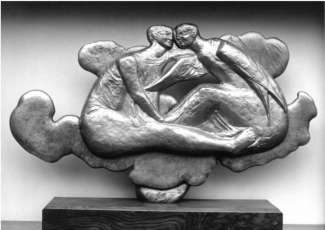 Elizabeth 'Betty' Koster ARBS (1926-2016)
Elizabeth 'Betty' Koster ARBS (1926-2016) became an Associate member of the Royal Society of Sculptors in 1979. She trained at Kingston School of Art between 1942 and 1945 and then at the Royal College of Art between 1945 and 1947. As a young sculptor, she worked as an assistant for Barney Seale FRBS on the Festival of Britain. In 1953, she qualified as an art teacher, and would later become a lecturer of wood carving at Edinburgh College of Art. Koster's work is incredibly varied, evidenced by the range of materials she used. Throughout her career she worked in bronze, ceramics, aluminium, brass, ivory, sperm whale's tooth and wood. She also worked as a medallist.
As well as exhibiting widely, Koster completed ecclesiastical commissions. At St Giles' Cathedral, Edinburgh, she completed a bronze St. Anthony, the main tabernacle and a reliquary containing St. Andrew's relics comprised of bronze angels flanking a perspex box. She also completed works from the apocalypse: I John Saw and Adoration of the Lamb. As a wood carver Koster used many different woods: yew for Male/Female, laburnum for Lazarus, pine wood for Third Eye and walnut for Spirit Bird, to name just a few. Some of her works have a totemic appearance such as her 1987 aluminium piece The Vision and The Victims, carved of oroko wood.