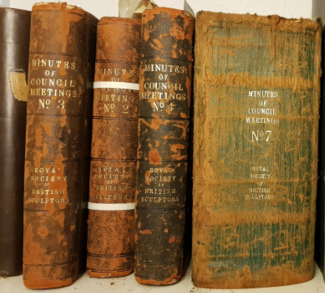 By Rosamund Lily West, Research Curator
The archive of the Royal Society of Sculptors is housed at our headquarters in Dora House. It is an unique collection and has been documenting the workings of the Society and its members since our foundation in 1905. The archive consists of minute books, which are mostly handwritten and have recorded every council meeting since the very first on 10 January 1905. There are also annual reports dating from 1919, which are a wealth of information as they list members, council members and, at their fullest in the 1960s, contain essays, photographs and information about exhibitions. The archive also holds over 1,000 membership files containing photographs, slides, exhibition catalogues, CVs and press cuttings. The archive is a wonderful record of the sculpture and sculptors of the twentieth and twenty-first centuries. However, is not static and is not purely historical - we encourage current members to think about their archive and send us ephemera to add to their membership file.
This period is unprecedented in the Society's history. We are in the middle of a pandemic and, to all intents and purposes, much of our normal lives have been shut down. The only events comparable to this are, perhaps, the two World Wars. The archive records how the Society and its members responded to these events. Many sculptors – men and women - had to put their careers on hold to serve in the wars. If you have been following the 'Pioneering Women' project, you may have already read how some of those women's careers were interrupted and altered by the wars. Our minute books and annual reports record how busy some sculptors were in the years after the First World War, with the huge number of memorials being commissioned across the country. During and after the Second World War, the archive records an influx of émigré sculptors from Europe, as well as concerns over protecting public sculpture during air raids.