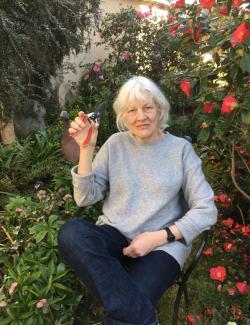 By Almuth Tebbenhoff, Vice President
Like many of us I thought at first 'oh great, I can work to my heart's content, have exquisite silence and potter around in the garden - all my favourite things'. Thoughts such as 'we had it coming for plundering and destroying our earth' were also in the mix a little further to the back.
The Coronavirus and the fall out from it didn't come as a surprise, in fact in some ways it felt as if I had been preparing for this through my meditation with a particular group of Silent Sufis for 36 years. So when this tiny invisible virus appeared, holding the whole world to ransom I had a sense of deja vu. I think this actually changes everything. I believe that there will not be business as usual afterwards for anyone. The opportunity for change to actually make a difference to the survival of us on our planet is too great to bypass and to not just hope for our creature comforts to please come back.
This autumn I had been working frantically on a project to make 5 window installations for Gallery Pangolin London entitled Who Will Buy My Dark Dark World which was due to open in early March. When I now look at the work it feels very apt, it is about loss and emptiness, instinctual and mournful. I had gone back to working with clay, the most basic of all the materials. It's cheap, fairly abundant and endlessly malleable and it is the first material I had learnt to use when I began training to be an artist in the seventies. I am looking into some sort of abyss to check out its depth and to find the green shoots. It is no coincidence that Robert Macfarlane has just published Underland - some of us need to look deep down and tell what's there.
So now, in lockdown, I get up just a bit later in the mornings, wander round the garden in pjs, linger over coffee, buy bread, eggs and toilet rolls like everybody else (but only for a couple of days ahead because I refuse to be sucked into the frenzy) and then I go next-door into my studio. This is filling up nicely with all the pieces that were allocated for show (two steel pieces are through the first round of the RA Summer Show which may now not happen) that have been put on hold, and I work. There's so much that needs to be expressed….
AT 25 March 2020