This new creative retreat opportunity at The Red House, former home of Benjamin Britten, is open to women members of the Royal Society of Sculptors to spend time in Suffolk on a peaceful, creative retreat.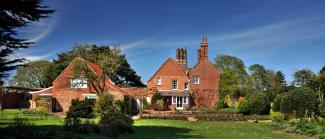 Background
The Red House, Aldeburgh is part of Britten Pears Arts a registered charity that grew out of the work, music and lives of Benjamin Britten and his life partner Peter Pears. The charity's activities include running the famous Aldeburgh Festival, presenting a year round programme of musical events in Snape Maltings Concert Hall, extensive health and wellbeing work and a broad ranging education and community programme.  It maintains and develops The Red House as a major heritage site and as well as the permanent galleries, holds exhibitions and events, to encourage children and adults to learn more about the life and work of Britten and Pears. The Red House is a mix of classic 1950s/60s interiors, formal and cozy, with an eclectic range of books, art, and furniture. The large gardens are ideal for wandering around and enjoying the peace and quiet of this corner of Suffolk.
At the Red House there is also a vast collection of manuscripts, documents, artworks, and multi-media materials held in a purpose built archive. Access is available by appointment to researchers and drop in for visitors from Tuesday to Saturday during seasonal opening hours.
2021 winner - Alison Cooke MRSS
Entry Process
Applications for the Red House Residency 2022 are now open. Click here to apply.
Deadline for applications:    31 August 2022, 5pm
For Benjamin Britten – one of the foremost composers of the 20th century – a quiet place to compose was absolutely essential. He was fortunate enough to achieve this for most of his life, spending his last two decades at The Red House, down a quiet lane on the outskirts of Aldeburgh, Suffolk.
This new creative retreat at The Red House is open to women members of the Royal Society of Sculptors to spend time in Suffolk on a peaceful, creative retreat. The residency takes place in two, two week blocks. The first being 1-12 November 2021, the second block being by arrangement with Britten Pears Arts in January/February 2022.
The selected sculptor will receive a £1,000 stipend to cover food, transport and materials for the total four weeks, supported by the Fedora Gleichen Fund.