Susan Stockwell FRSS and early-career artist Florian Houlker are winners of the Grizedale Residency 2021!
Susan Stockwell FRSS
Susan Stockwell is an established international artist working across sculpture, installation, collage and film. Her practice is concerned with examining histories and engaging with questions of social justice, cultural mapping and feminism. Her work employs the material culture of everyday products, such as toilet paper, recycled computer components, maps and money, which she transforms into compelling artworks. In seeking to reconnect an object's past, its related history and materiality with contemporary issues, her practice underscores these materials urgent interconnection to collective memories, and ecological shortfalls.
Susan has exhibited extensively around the world, including; TATE Modern, London, The National Museum of China, Beijing, The Katonah Museum of Art, New York, USA and Manchester City Art Gallery. Her work is in collections around the world, including; The Victoria & Albert Museum, London Transport Museum, Tropenmuseum NL, Black Rock Investments and Yale Centre for British Art, USA.
She is based in London, England.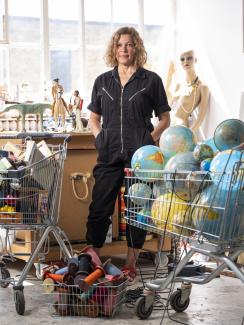 Florian Houlker
Florian is a multidisciplinary artist from Preston Lancashire based at The Birley Artist Studios. They studied at UCLan graduating from their BA in 2017 and MA in 2019, and are currently Artist in residence at Artlab Contemporary Print Studios.
Florian explores the post-industrial landscape through explorative investigations and searches for narratives within it, often reclaiming objects from these environments to repurpose or change their narratives. They are interested in recording the surfaces of reclaimed objects and surfaces in the landscape, as there is an embedded visual history which comes from human traces and natural factors.
Through a multidisciplinary approach to making, traditional casting techniques are used to repurpose objects, changing their material qualities to take on new semiotic narratives, social, political and environmental.
Predominantly interested in using earthen materials such as concrete, wood, metals, clays and slips, these materials capture the fragilities and traces which are left redundant in the landscapes, whilst having a material connection to the site specific locations.